Keynote Address by Dharma Master Hsin Tao and Overview of Program
Program Overview of WS2020
Dharma Master Hsin Tao
Founder of Ling Jiou Mountain Buddhist Society & University for Life and Peace
---
Keynote Address
---
Good day, respected professors, students, friends! Peace and blessings to you all!
The second year of the Ling Jiou Mountain Winter school, planned and pre- pared by the preparatory office of University for Life and Peace, is going to start soon in Yangon, Myanmar. On this occasion, I am very grateful to all supporters around the world who offered their contribution and support of this program. On behalf of all members in the preparatory team who have given their earnest efforts in making this possible, I would like to express my deep appreciation and gratitude to each and every one of you.
The first winter school was conducted in January of this year 2019, with the theme of "Addressing Deep Roots of the Ecological crisis--- Towards New Strategies." Ten world renowned professors were invited to offer their guidance and wisdom, offering lectures and leading discussion groups among students. Twenty-five students from various academic fields attended, and completed the course.
This first class had attracted much attention and received favorable responses in both Myanmar and in international academic sectors, in part due to its cross-disciplinary approach to research, which also included practical action plans. Professors and students continued their discussions and study for nearly six months after the class, resulting in a total of 15 approved and credited individual and group papers, granted with Achievement Certificates. With such a historical accomplishment, we have now indeed taken the first step toward the establishment of our university program.
We have now gained more confidence in moving forward, since a solid foundation has been built from this initial experience. After rethinking and re-examining today's situation around the world, we carefully selected the theme for this year as "Healing the Earth–Transformative Action for Ecology and Technology". For the teaching faculty, we were able to again invite excellent professors from top universities. The criteria of selecting students included excellent professional knowledge, a sense of responsibility, and ambition.
This time, we are very pleased and honored to receive strong support from Yangon University, and the State Pariyatti Sasana University, and they will also send outstanding professors and students to attend our winter school. Thus, our efforts will have their impact on the local scene as well as in the international arena.
It is our firm belief that integrating both spirituality and technology into our work of healing the ecological system is a new and better educational model that will be beneficial to the Earth.
The ever-changing world situation is so unpredictable, human awareness keeps advancing along with the time. As such, shedding light on the root of our problems is the key to our search for solutions. Through the experience gained from the first year of the winter school, we are able to identify a clear and obvious strategic goal of our vision of education for peace. Therefore, the theme of this year "Healing the Earth–Transformative Action for Ecology and Technology," emphasizes the responsibility of technological applications to the eco-system by actively taking on beneficial practices and minimizing destructive ones.
We expect that through careful curriculum planning and a closely-knit interactive type of education that we are putting in place for this Winter School, new wisdom will be generated through mutual exchanges and resonance among participants. We expect that this wisdom will address all aspects of human living and lead to rethinking and correction of current practices, resulting in action items that will entail a transformation in the way we think, speak, and do things vis-à- vis our Earth.
In September of 2019, the United Nations Climate Summit was held in New York, and there, Michelle Bachelet, Former President of Chile sent out a warning that "climate crisis is the biggest threat to human beings in history, and no country, institute or decision maker shall sit on the sidelines and do nothing". She proposes five principles to promote climate action, and issues severe warnings to highlight the fact that the global climate crisis has come to the level of threatening our entire humanity and is now creating a human rights crisis. I deeply believe that the expertise from all of you can present further evidence or collective experience that will confirm what she has said.
This winter school research class is not intended just for a certain group of people to get together and have talks among themselves that result in nothing. We the participants must be confident in knowing that we are the seeds of peace, and that we are the among the pioneers of loving Earth. We must not only show courage in confronting our serious global problems together, but also lead the way to action that can forge through difficult situations.
Winter school is a part of a high-level research education, and although its scale is relatively small, it can be considered as a locomotive of the academic sector, and that it will have a major contribution to make to our common future.
Meanwhile, reporting on another aspect of our Ling Jiou Mountain Buddhist Society's work here in Myanmar, with the blessing of Buddha, the basic nurturing program provided by the Novice Buddhist Monastic School in Naungmon region has already accepted more than 400 novice Buddhist monks as of December of 2019. They are undertaking the traditional and strict Buddhist monastic education that will build a cornerstone for modern education. Furthermore, an organic eco-agricultural experiment program is being implemented in that region in order to create an advanced toxic-free organic farming and soil improvement technology. The program has entered into an initial operation mode and has started to demonstrate some results. These are important facets of our task linked to the central program of the University for Life and Peace that is being prepared for by the Winter School.
The roadmap of the education program created by us in Myanmar has been comprehensively designed in a way that includes a graduate school in Yangon, a large piece of land in Bago area to be used as the site of the university in the future, a series of education programs provided in Naungmon which covers elementary school to junior college, including secular and religious sectors. The comprehensively integrated education program aims at a providing a vision of co-existence and co-prosperity on Earth, toward which we all aspire. It will not only provide excellent resources for Myanmar, an ancient country that has been blessed with the heritage of Buddha for over a thousand years, on how to face the impact of modernization, but also offer clear guidance to the mainstream of society and to the technological sector, currently driven by materialistic values in pursuing a pattern of global development that has caused the ecological crisis. If seeds of peace and awakening can grow from this program in a way that can direct technology in applying itself to ecological healing, this will certainly be good news for creating a sustainable way of life for the Earth. With the spiritual cultivation of compassion grounded on Confucian, Daoist, and Buddhist vision and practice, these seeds of peace and awakening can provide us with hope of advancing human civilization.
I am confident that our professional team of professors and consultants, selected from prestigious institutions all over the world, have in them such a mind of awakening, with many supporters around them who are more capable than I to see where the opportunities are. A commitment to action is better than many beautiful words. Allow me to one more time sincerely invite everyone to join and share this movement of healing and loving Earth, and loving peace, regardless of place, time and form. Together we can plant the seeds of wisdom and com- passion through human education that will thoroughly turn around the directions that will determine the fate of the Earth.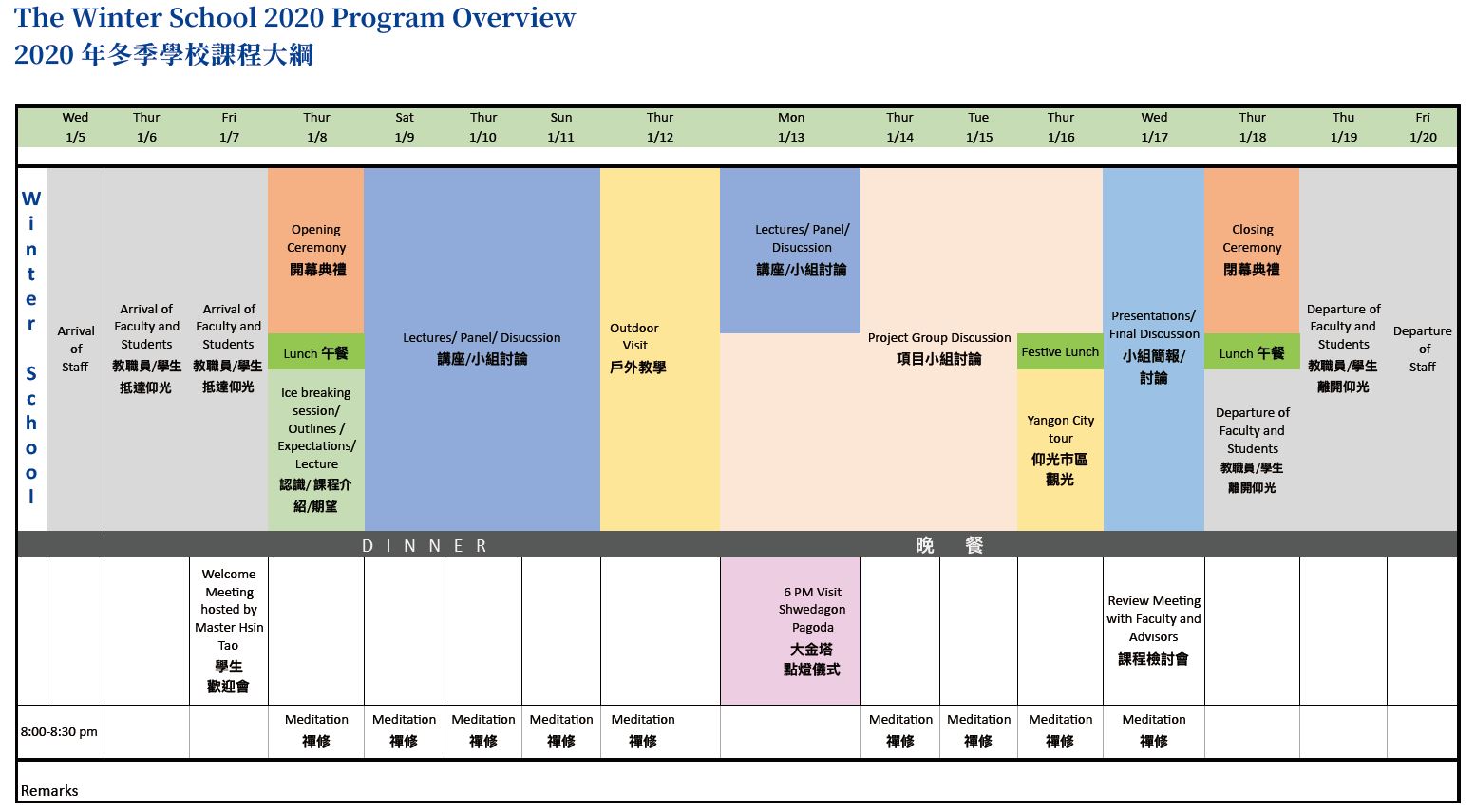 Program Download:
FINAL中英 WS Program Overview.pdf